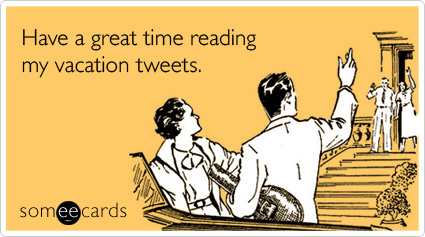 [image via Someecards.com]
I'll start with the bad news first. And don't worry, when I say "I'm taking a long vacation," I don't mean from blogging. I mean from running. Not because I want to, but because I have to.
Unfortunately I've sustained myself another nice little injury. Last year it was my left hamstring. Now it's my right hip flexor. It could be a labral tear (let's pray not!), or it could just be a groin strain. Either way, I need to rest. Probably for at least three weeks. (Kill me now!)
The pain in my right hip started just after I ran the Fitness Magazine Half-Marathon. Three days after the race I went out for an 11-mile run and unfortunately that was just too much, too soon. After that I rested for about a week until I felt OK again. But even though I felt OK on my first run back, there were still some small twinges of pain, a sign that I wasn't fully recovered. Stubbornly (just like last time), I chose to ignore that, simply because I love to run, and now, as a result, I can't. Oh the irony.